Report from our correspondent (reporter and liu) shanxi xinhui clothing co., LTD is the only company in Shanxi Province in the production of textile equipment manufacturers, is also the northern region's largest production base of textile equipment, its technology in the international advanced level, are among the best technological prowess in the same industry enterprises in the country.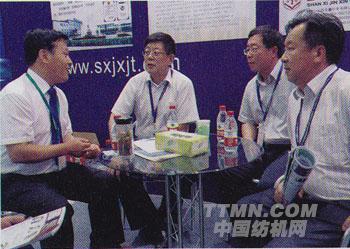 The graph is chairman of shanxi xinhui clothing company Zhang Xin (left) to China textile machinery equipment industry association director Wang Shutian (second left) about the exhibition.
In 2012, the company invested more than 2012 ten thousand yuan, the introduction of the domestic leading technology and advanced equipment, complete the annual output of 100000 square meters elastic clothing development projects with bottom cloth. Imported natural rubber, special pure cotton cloth, the main production of elastic nonwovens with bottom cloth, matte rubber, grain rubber and other products, to reach the company supporting for private use, meet the demand of the domestic flat clothing production, by the professional testing institutions inspection, products meet national standards, users to try various performance is good.
The project implementation, greatly improving the company's clothing production supporting capacity, reduces the outsourcing of raw materials, to improve the quality of clothing products, reduce cost, increase the comprehensive benefit, enhance market competitiveness, has great and far-reaching significance.